Bistro L'Hermitage should be compared to L'Auberge Chez François in Great Falls, because in some ways, it's just as good, and in some ways, it's better – both of these restaurants exude charm, and are worth the drive from Washington, DC.
We were in Woodbridge on Friday, and stopped in for a late lunch at 2PM (lunch ends at 2:30PM). We asked the fully staffed restaurant if their kitchen was still open, and they didn't even bat an eye – I suspect if you show up at 2:25PM, you'll be treated the same way. We were given the best table in the restaurant, in the corner, overlooking the entire dining room, and the service for the duration of the meal was not just good, but superb – as good as you would expect at Marcel's.
After asking us for still, sparkling, or ice water, our exceptionally professional server asked us if we'd like a drink, and we each got a glass of Belle Jardin Blanc de Blancs Brut NV ($11), a sparkling wine from Alsace which is not a Crémant d'Alsace (which is fermented in bottle like Champagne); rather, Belle Jardin is made by a less-expensive process termed Charmat, where the wine ferments in tank (H/T: Ben Giliberti), thus, it would be termed a Vin Mousseux (just as Eskimos supposedly have fifty words for snow … (you can tell a lot about what's important to a culture by its lexicon)). Note also that Calvert-Woodley is currently selling this wine for $143 a *case* – yes, it's a brutal markup by Bistro L'Hermitage (example #17,512 of why your restaurant adviser needs to be a beverage expert, every bit as much as knowing cuisine – but nobody ever is). In fact, I'm going to pick up the phone and call Calvert-Woodley right this minute, and order a case for myself (NB – I just did: total cost with tax, $157.30). This wine is perfect for an aperitif, a French '75, or to have by the bottle with Thai food – enjoy it.
Normally, Bistro L'Hermitage would course everything out, but my dining partner ordered soup and salad, I ordered a sandwich, and at our request, they happily said they'd bring out everything together (it just made the most sense). They also brought out a basket of very good sliced baguette – not baked in-house, but seemingly baked earlier in the day, perhaps par-baked also – as well as a ramekin of wonderfully creamy butter, atop of which we sneak-shaked some salt and pepper (I have a fetish for lightly salted butter – nothing kinky; I just think it tastes better).
Soupe d'Onion [sic] ($8) was a bowl of deep, rich, seemingly long-cooked beef broth packed with onion flavor (and fully cooked slices of onion), along with a slice of that baguette topped with gruyère and some parsley as garnish. A perfect example of an imperfect dish that had been cooked with love, I would order this soup again and again – it was delicious.
The Salade Cesar ($9) was a lovely plate of romaine leaves that was more appealing to the eye than to the palate. A perfectly lovely dish, but I prefer my romaine cut for me (unless it's grilled), and the dressing was more of a "creamy garlic" than that of a classic Cesar – they also skimped a bit on the white anchovies, and the croutons were crunchy-hard (they weren't from a box, but I prefer at least a touch of "give" in my croutons, which is why I generally cast them aside because they're so often like crackers). You can look at this salad and see that it wasn't bad, but if there was a weak link in the meal, this would have to have been it.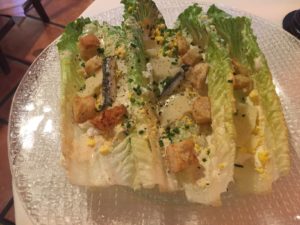 Croque-Monsieur Classique ($16) was an interesting take on this wonderful French sandwich. Billed as a "hot ham and cheese sandwich," with "cornichons, Meaux mustard, and fries," that's pretty much what it was, and the thing that made it interesting to me was the combination of Meaux mustard and something I don't ever recall seeing on a Croque-Monsieur: the cheese they used was thinly sliced Brie. Much of Brie is made in the town of Meaux (it's not too far from Paris), and although this wasn't the AOC Brie de Meaux (which is unpasteurized and tragically illegal in the U.S.), I'm quite certain this cheese was Brie instead of the usual Gruyère (I even saw some tiny bits of the rind, which confirmed my suspicion – you can see a tiny piece of it in the center of the sandwich in the photo). I thought this (probably unintentional) coupling worked extremely well – they went heavy on the sliced ham, and the toast could even be considered "Texas toast," as it was quite thick. The fries were house-cut, and made this into one heck of a hearty meal which I couldn't quite finish. Incidentally, if you're ever in France, and come across "Brie de Meaux" that says "au lait cru" (raw milk), get it, even though you think you've had Brie a million times, this will be a life-changing experience. Raw-milk Brie de Meaux is one of the world's great cheeses, but even plain old, industrial Brie is a cheese that I've re-fallen in love with, and it worked very well on this sandwich.
The food at Bistro L'Hermitage was very good, but as good as it was, it was surpassed by the charmingly beautiful atmosphere and the genuinely caring, professional service – Youssef Eagle Essakl knows how to run a restaurant with panache and aplomb. Bistro L'Hermitage *might* have been demoted from Italic, ever-so-briefly, when Chef Burkhart left for a few months, but it has been both classified in Italic, and also ranked as the #1 restaurant in Occoquan, since shortly after it opened in 2007 – there was nothing about this lunch that would make me think otherwise.
Jul 29, 2011 – "Bistro L'Hermitage Thrives after Beating Odds" by Janelle Esposito on patch.com